Published on July 06, 2021
Vehicle DIY: Convert Sealed Beam Headlights to H4 Halogens
An easy upgrade for anyone with a screwdriver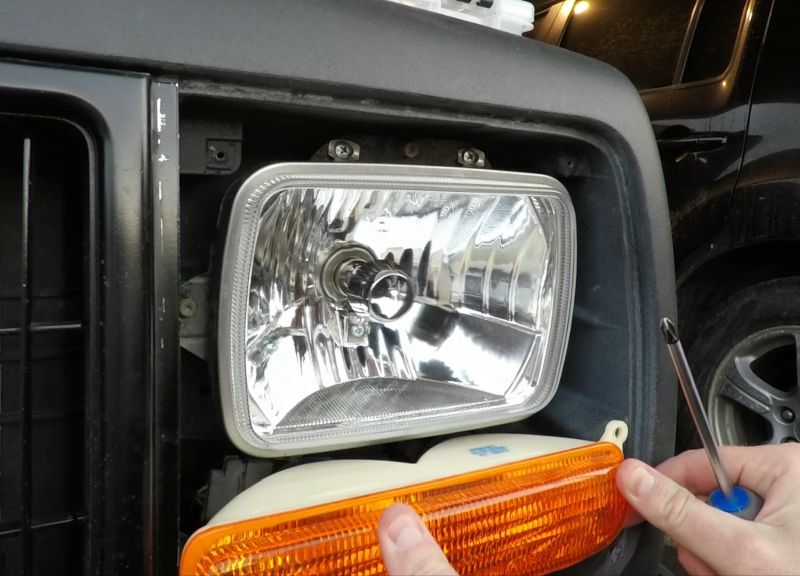 Photo by author
Does your vehicle use older sealed-beam headlights? Sealed beams were introduced in the late 1930s and standardized by law on most US-market light trucks and cars after World War II. One of the main disadvantages of these are that they have integrated bulbs, so when they burn out you need to replace the entire light. US regulations only permitted composite designs with replaceable bulbs starting in 1984, and the last holdout for sealed beam technology was the 2017 Chevy Express commercial work van. My ride is a 2000 Jeep Cherokee (XJ), which uses the 5x7 rectangular format, and headlights were one of my first upgrade items both for night visibility and aesthetics.
Sealed beams generally have a good beam pattern and reasonable service life, but lighting technology has made significant leaps in the past couple decades. Generally there are three upgrade options. The most labor-intensive is to buy the fascia from a wrecked newer vehicle that has similar fitment and composite headlights, then Frankenstein the donor face onto the older vehicle. I recently spotted a mid-1990s XJ that had its headlights and grill assembly converted using parts from a 2009-ish Jeep Liberty or Commander. It probably took the owner two or three weekends and an aggravating exercise in bracketry to make that happen. It is a unique option but tends toward impractical for most weekend mechanics.
The two practical options are an LED replacement unit, or an H4 halogen conversion unit. LED units are very popular among 4x4 and classic auto enthusiasts, but units which offer a DOT-compliant beam pattern and high lumen output are relatively rare and expensive, typically in the range of $200 per pair and up. If you were ever tempted by the $60-70 pairs littering the eBay landscape, don't be – Headlight Revolution explains why, both in terms of beam pattern deficiencies and a shortage of total lumens. Note that Headlight Revolution is also a lighting retailer, but their YouTube channel contains a wealth of free information that you can take elsewhere if you so choose.
Another problem with LED upgrades in cold climates is that the fixtures tend not to self-de-ice unless heater wires are embedded in the cover. That feature is usually available only on the priciest units. Since I am in Colorado, which experiences Real WinterTM and daily seasonal variations patterned after a roulette wheel, I went with door #3: the H4 halogen conversion. That option starts just under $100 and the bulb output is standardized, unlike the LED options. I chose the Rampage Products 5x7 conversion from Quadratec.com, but any off road outfitter or auto accessory website can provide something similar.
Like the sealed beam unit it replaces, the H4 halogen bulb has a standard three-prong connector that connects directly to factory wiring, and the composite fixture uses a glass face which will not fade or yellow. Unlike the sealed beams with their focusing elements clotting up the front lens, the composite fixture uses a clear front lens and relies on the rear reflector for the beam shaping, which produces slightly better light pass-through and a cleaner aesthetic. Also, H4 bulbs can be bought in every variety of tinted or high-output design that your tastes and wallet will allow.
How easy is this modification? I'll walk you through the process, start to finish. Today's feature presentation is hosted on my YouTube channel. See you there!
---
Aaron Vienot is a guest contributor to Citizen Upgrade, a community of experts covering technology, society, and personal development. Visit us at our website, on Facebook, or on Twitter.