Published on November 01, 2022
Top Day Trips from Washington, DC
Ten Weekend Getaways from the Nation's Capital
Photo by Andy Feliciotti on Unsplash
Over the coming years, we may face continued inflation, high gasoline prices, even higher airline ticket prices, and stagnant wages. These are good reasons that we should look for weekend getaway spots closer to home. Lifehacker has a great resource that lists top trips in each state (links here for Virginia and Maryland). Below we list our own top day trip destinations from Washington, DC, and the mileage noted by each location is calculated from the city. Please note that these are author preferences, not compiled from other lists, so may reflect our personal tastes. Safe Travels!
18 Miles: Glenstone Museum
Photo by James Stokes on Unsplash
The privately owned Glenstone Museum sits on 230 acres in Potomac, Maryland. It is host to an impressive display of landscape, outdoor sculpture, architecture, and modern art. Entry is free but requires a timed ticket. If there are no tickets available on the day you'd like to visit, you will also be allowed entry if you arrive by local bus (route 301) or have a valid student or active duty military ID.
28 Miles: The Winery at Bull Run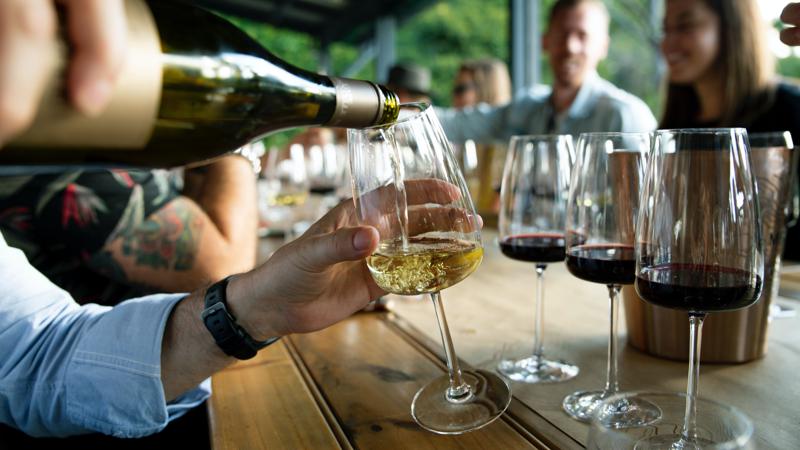 Photo by CA Creative on Unsplash
The Winery at Bull Run is located next to the Manassas National Battlefield Park on the edges of Fairfax County, Virginia. Enjoy wine tastings, snacks, and live music events with stunning views of region's rolling hills.
30 Miles: Udvar-Hazy Air and Space Museum (IMAX theater)
Photo by Stephen Mease on Unsplash
You may think you have visited the National Air and Space Museum, but if you're remembering the one in downton DC than you've missed this incredible gem near Dulles International Airport! The Udvar-Hazy Air and Space Museum opened to the public in 2003 and is home to thousands of aviation artifacts on display across two massive hangars. Highlights include the space shuttle Discovery, an SR-71 Blackbird, a concorde passenger jet, and the Enola Gay bomber (pictured above).
32 Miles: Annapolis
Photo by Vikram Deshmukh on Unsplash
A gem of a city on the Chesapeake Bay, Annapolis makes for a delightful day trip from Washington, DC. Take a tour of the US Naval Academy, take a boat ride onto the bay, and sample some delicious fresh seafood.
63 Miles: Harper's Ferry, WV
Photo by Chenzhi Zhao on Unsplash
This historic town in West Virginia is nestled among lush mountain forests and rivers. It is the perfect jumping off point to explore some local history (visiting the site of John Brown's 1859 raid) or take a day hike.
70 Miles: Shenandoah National Park (Skyline Drive, Big Meadows, Old Rag, Devil's Staircase)
Photo by Felipe Leite on Unsplash
Shenandoah National Park boasts over 300 square miles of pristine mountain forests along the Virginia and West Virginia border. The park is easily accessible by car via Skyline Drive along its western border. Or, for more adventurous types, you can hike a portion of the Appalachian Trail or climb to the summit of Old Rag. During the autumn leaf peeping season the park can get pretty crowded. Old Rag trail recently began to require tickets to access the trail so visit this site for a free "day use ticket" as you plan your trip.
108 Miles: Richmond, VA
The Virginia state capital, Richmond, is a historic city with a vibrant art and restaurant scene. History buffs can visit the American Civil War Museum, art lovers can visit the city's museum or street art scene, and outdoorsy types can raft down the James river. Check out this city tourism site to see if your visit will coincide with any festivals or special events.
117 Miles: Charlottesville (UVA, Monticello)
Charlottesville is home to the University of Virginia and Monticello, the home of President Thomas Jefferson. Both are worth a visit, particularly if you have an interest in architecture or history. Jefferson experimented with numerous building styles at his home, many of which he refined as he designed the central buildings of the University. Tours of Monticello are also an opportunity to explore the complex legacy of slavery, the stories of enslaved peoples, and their role in shaping the American story.
141 Miles: Assateague Island National Seashore (camp overnight!)
Photo by author
While it's possible to visit Assateague National Seashore in a day, why not pitch your tent at a beachfront campsite and stay overnight? Besides the beach and wetlands nature preserve, the unique feature of this park is its population of wild horses. These horses wander freely through the park, and sometimes your campsite, and have been known to sample your food if you haven't stowed it properly!
153 Miles: Williamsburg, VA
A short drive from Richmond is Williamsburg. Founded in 1632, it is one of the oldest cities in Virginia and offers a great way to experience colonial history via its restored city center. For those requiring a more adrenaline fueled activity, the Busch Gardens Williamsburg amusement park is close by!
---
Citizen Upgrade is a community of experts covering technology, society, and personal development. Visit us at our website, on Facebook, or on Twitter. Join our mailing list to access more great content and other helpful resources.