Published on December 01, 2022
How To: Make A Tortilla Española
Our take on the classic "Spanish Omelette"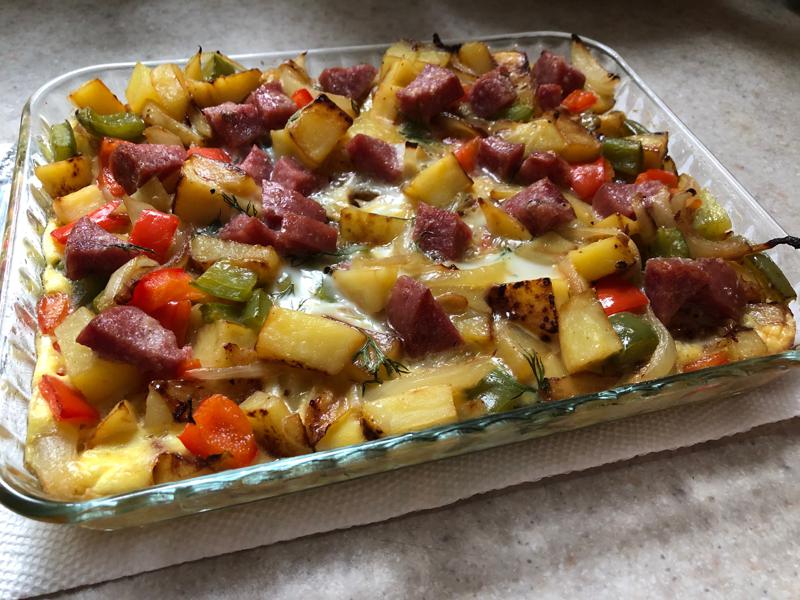 Photo of the finished product by author
Ready for a weekend brunch? Here's a savory recipe that offers a change in pace from your standard eggs and bacon. Just because it has eggs doesn't mean you can't have the dish for lunch or dinner, and this also tastes great when served cold!
Disclosure: This article contains Amazon affiliate links to products. Purchasing via these links supports our writing at no extra cost to you!
The recipe below is from our book: Cooking for Grownups: Easy, Nutritious, and Delicious Recipes with Gluten Free, Low-FODMAP, and Vegetarian Options. This book is perfect for the "what should we make for dinner" debate, for planning your next trip to the grocery store, and as a reminder of fun meals and good times. The design of this book makes it a good primer for those "kids" going to college, "post-grads" striking out on their own, young families who need simplicity in their lives, or people who are simply newer to cooking. As many of us have people in our lives who are sensitive to some foods, it is also designed to accommodate several of those sensitivities with some of our favorite recipes.
Prep / Cook: 10 minutes / 30 minutes
Servings: 3-4
Ingredients
2 tablespoons butter
1.5 cups chopped potatoes
2 cloves garlic (substitute garlic oil for low FODMAP)
4 eggs
1 green pepper
1 medium sized onion (substitute green onion greens for low FODMAP)
Salt, pepper, and paprika to taste
1 tablespoon olive oil
Optional: fresh herbs (dill, thyme, basil, etc.)
Optional: ¼ cup chopped salami, ham, or cooked bacon
Directions
Preheat the oven to 375 deg F.
Peel & chop the potatoes into ½-1 inch cubes.
Mince the garlic and roughly chop the green pepper and onion.
Sauté the potatoes, onion, and garlic in a non-stick pan with the butter. Season lightly with salt, pepper, and paprika to taste while it is cooking. Cook until the potatoes are soft (approximately 5-10 minutes depending on the size of the potatoes). Add the green pepper towards the end and saute lightly.

Note: You may need to add additional butter or oil if the pan dries out.

Apply the olive oil to the sides of an oven safe baking dish (use a paper towel to spread the oil evenly).
Transfer the vegetable mixture to this baking dish and spread evenly.
In a separate bowl, beat the eggs and add salt & pepper to taste. Optional: Add the chopped fresh herbs and chopped salami, ham, or bacon.
Pour the egg mixture into the baking dish to cover the vegetable mixture (you may need to add an extra egg or two depending on the size of your dish).
Bake at 375 deg F for 15-20 minutes or until the egg is cooked through (test by poking it with a knife, if the knife is dry then you're done).
Remove the dish from the oven and let sit for 10 minutes.
Optional: If you're feeling lucky, run a knife around the edges of the baking dish and spatula along the bottom, then invert over a serving platter.
Optional: Garnish with fresh herbs & serve with ketchup, mayonnaise, red pepper spread, or aioli on the side. For a quick garlic aioli recipe, mix ½ to ⅔ cup mayonnaise, 3 tbsp olive oil, 2-3 cloves minced garlic (use a garlic press for this if you have one), and a splash of lemon juice. If you have some fresh dill or basil you can chop that and mix it in as well.
More Features of the Citizen Upgrade Cookbook:
Recipes for beverages, side dishes, main courses, and desserts.
Graphical rating system (in the paperback and hardback versions) to evaluate recipes as you try them.
Substitution notes to accommodate a variety of restrictions, including gluten free (GF), low-FODMAP (FOD), and vegetarian diets (V).
Available in paperback, hardback, and eBook (kindle) editions.
Blank lined pages are included in the print versions so you can take notes or write in your own favorite recipes.
Order your copy via the link below!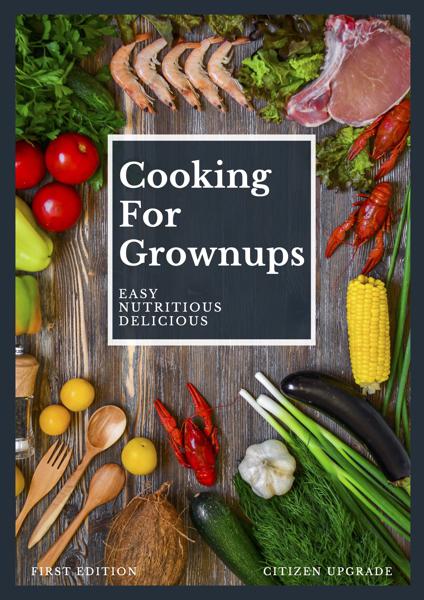 Image courtesy of author, order your copy of the book here!
---
Citizen Upgrade is a community of experts covering technology, society, and personal development. Visit us at our website, on Facebook, or on Twitter. Join our mailing list to access more great content and other helpful resources.
Join Medium with my referral link - Citizen Upgrade

As a Medium member, a portion of your membership fee goes to writers you read, and you get full access to every story on Medium.

citizenupgrade.medium.com