Published on October 09, 2022
How To: Mix a Perfect Old Fashioned Cocktail
A favorite from our book: "Cooking for Grownups"
Photo by Bon Vivant on Unsplash
This drink is an old classic, so much so that it actually has the word "old" in its name. If that's not proof enough to try it I don't know what is! The Old Fashioned is an excellent general cocktail and is often served before dinner as an aperitif. It is also a good introduction to other mixed whiskey drinks like the whiskey sour, manhattan, and the increasingly popular vieux carré. Try both garnish types (the cherry or the orange peel) and pick your favorite for future reference. If you find the whiskey taste too strong, you can add in a few dashes of water or just wait for the ice to melt. Cheers!
Disclosure: This article contains Amazon affiliate links to products. Purchasing via these links supports our writing at no extra cost to you!
The recipe below is from our book: Cooking for Grownups: Easy, Nutritious, and Delicious Recipes with Gluten Free, Low-FODMAP, and Vegetarian Options. This book is perfect for the "what should we make for dinner" debate, for planning your next trip to the grocery store, and as a reminder of fun meals and good times. The design of this book makes it a good primer for those "kids" going to college, "post-grads" striking out on their own, young families who need simplicity in their lives, or people who are simply newer to cooking. As many of us have people in our lives who are sensitive to some foods, it is also designed to accommodate several of those sensitivities with some of our favorite recipes.
Prep / Cook: 5 minutes / 0 minutes
Servings: 1
V / GF / FOD
Ingredients
2 oz bourbon or rye (we suggest 4 Roses or Angel's Envy bourbon whiskey)
2 dashes Angostura bitters
Optional: Add 1 dash Peychaud's bitters in addition to the Angostura bitters
⅓ oz simple syrup
Ice (bonus points if you use a single large spherical cube)
Choose 1 garnish: a luxardo cherry or slice of orange peel
[Note: Whiskey is often listed as low FODMAP in a single serving/]
Directions
Using a martini shaker or mixing glass, add several cubes of ice, the bourbon, bitters, and simple syrup.
Stir the cocktail until all ingredients have combined (approximately 15 seconds).
Strain the liquid from the ice used for mixing into a whiskey glass with a single oversized ice cube.
Garnish with either a luxardo cherry or a slice of orange peel and enjoy!
More Features of the Citizen Upgrade Cookbook:
Recipes for beverages, side dishes, main courses, and desserts.
Graphical rating system (in the paperback and hardback versions) to evaluate recipes as you try them.
Substitution notes to accommodate a variety of restrictions, including gluten free (GF), low-FODMAP (FOD), and vegetarian diets (V).
Available in paperback, hardback, and eBook (kindle) editions.
Blank lined pages are included in the print versions so you can take notes or write in your own favorite recipes.
Order your copy via the link below!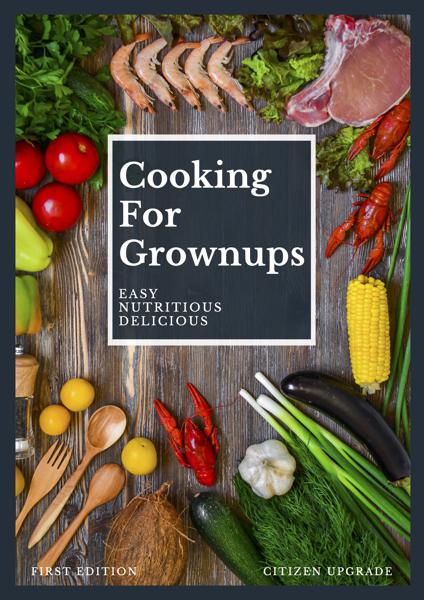 Image courtesy of author, order your copy of the book here!
---
Citizen Upgrade is a community of experts covering technology, society, and personal development. Visit us at our website, on Facebook, or on Twitter. Join our mailing list to access more great content and other helpful resources.