Published on December 10, 2021
How to: Travel to Iceland on a Budget
Travel Advice for the Land of Fire and Ice
Photo by author
In September 2021 I spent 10 days traveling around Iceland. Iceland had been on my "travel bucket list" for years, so I took advantage of the shoulder season dates to score a deeply discounted flight. Although the flight was inexpensive, prices are high in Iceland and expenses rack up quickly. Here I share some tips to stay on budget while enjoying your time touring the country.
Scroll to the end of this article for a video of the "ring" road drive experience!
Pre-Travel Preparation:
Rent a car (or camper van for bonus points): You'll need your own vehicle if you want to explore everything this country has to offer. If you plan on venturing off the ring road at all, consider paying extra for a 4- wheel drive. Gasoline is expensive, so you may also want to consider renting an electric vehicle depending on your itinerary and willingness to pause for recharge stations. As an alternate cost-saving measure, many people rent camper vans to combine their vehicle and accommodation expenses. Blue Car rental worked well for me and had a decent selection of vehicles with a basic level of insurance included. Whichever company you choose, it's a good idea to get a solid insurance plan on your car rental given Iceland's extreme landscape and weather. Double check your insurance policy's fine print, as some plans have exclusions. I learned this the hard way when a wind gust blew open my car door causing some significant damage, which was specifically not covered by my policy. Lesson learned… park your vehicle facing the wind! Take a look at this article for more Iceland driving tips.
Photo by author
Book accommodation: If a camper van is not your style, Iceland has a wide variety of accommodation options ranging from tiny houses (see photo above), bed and breakfasts, furnished apartments, and hotels. Food is expensive in Iceland so if you're on a budget, select options that include a private or communal kitchen, microwave, and kettle so you can cook your own meals and snacks.
Get a PIN for your credit card: You'll need to use your credit card's PIN (personal identification number) in certain locations like unattended gas stations. If you don't know your PIN you'll need to request one from your credit card company. This often requires them to mail you the number so plan to do this at least a month before your trip.
Packing list: Your pack list will depend on your itinerary and activity plans, but the following items are good to consider: snacks, food containers (more on that later), hiking boots, first aid kit, weather appropriate clothing (hat, gloves, and windproof jacket year around), rain gear, and Costco membership card. Several items will also be essential for any visits to hot springs: waterproof phone case that allows picture taking and credit card storage, waterproof sandals, towel, and bathing suit. Also, don't forget your camera and tripod as Iceland is a top destination for nature photography!
Photo by author… pack appropriately for extreme weather year around!
Communication and Smartphone Applications: Ensure you have data roaming available on your mobile phone so you'll have access to maps while on the road. The Maps.me application, Google Maps, and others allow you to download offline maps which can be helpful. If you're traveling off the beaten path, you may want to consider a personal locator beacon. My rental car came with its own dashboard navigation system, but it was glitchy and difficult to use so I was grateful to have a few backup options.
On Arrival:

Photo by author… the duty free alcohol is at the bottom of the escalator!
Duty Free Alcohol: Buy alcohol at duty free before you leave the airport. Even at duty free the prices may seem expensive, but you'll still save a bundle compared with market rates. You can't miss the store since you have to physically walk through it on your way to the customs and immigration desks (see photo above).
Visit an ATM: Visit a bank machine and get some Icelandic currency to keep in case of emergencies or for tips, bathroom fees, etc. You can spend whatever's left at the duty free shop on your way home!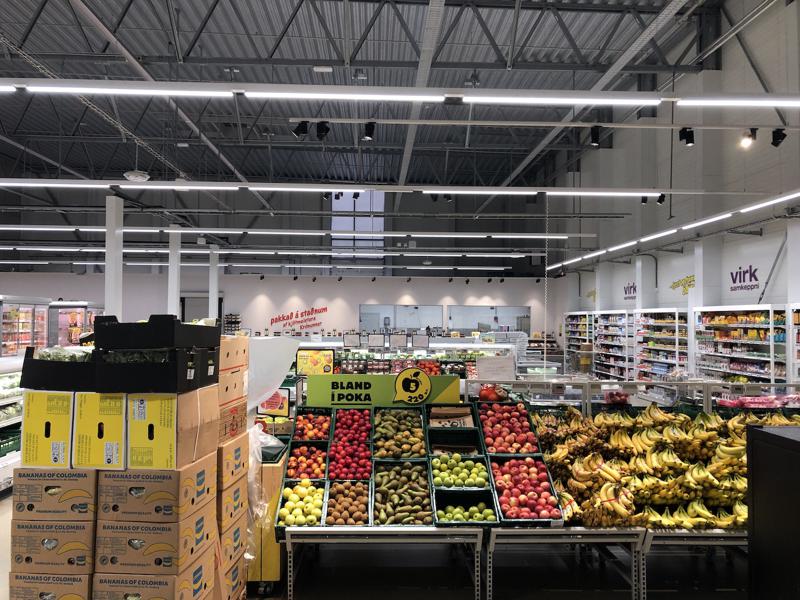 Photo by author… Kronan grocery store near Keflavik
Get Groceries: Eating out in Iceland is pricey, so budget travelers should consider cooking most of their own meals and snacks. The largest grocery stores with the widest selection of items are in Reykjavik, so stop at the Kronan grocery store near Keflavik airport or drive to the Costco near Reykjavik to stock up on supplies. The local milk, eggs, and yogurt (Skyr brand) are delicious!
While Traveling:

Photo by author… if you zoom in you'll see the wind damage dents in the driver's side door!
Safe Driving Tips: As noted above in the "packing list" section, Iceland weather is prone to extremes and frequent changes over the course of a single day. Bookmark the country's Safe Travel website and check for road conditions updates frequently. Check out this blog post by @icemanj256 for more safe driving tips including: insurance plans, daytime headlight use, wind damage to car doors, one way bridge etiquette, and "F" road travel requirements. Scroll to the video at the end of this article for a sample of Iceland road and weather conditions!
Photo by author… Djúpavogskörin hot spring/tub along the ring road
Activities: Once you're set on accommodation and transport, many of the best things to do in Iceland are free or low cost. This blog post lists fifty free activities including natural hot springs, hikes, and other points of interest (with a helpful map included at the end). If you have a particular interest in the hot springs and geothermal spa pools, these two resources map out the best of the island (Guide to Iceland hot spring guide and Campeasy map of natural hot springs). I recommend the Blue Lagoon or Lake Myvatn Baths, the Reykjadalur hike and natural spring, and the Djúpavogskörin hot spring/tub along the ring road (pictured above).
Food: Remember those food containers you packed? Cook your own meals in the evenings and pack leftovers to take with you on your day excursions. Pack sandwiches and other snacks so you won't be tempted by an overpriced mediocre meal at a restaurant. One exception to this "avoid eating out rule" is to try the local hot dogs, which are surprisingly delicious here!
Tax Refund Receipts: If you make any medium or big-ticket purchases (wool sweaters, souvenirs, etc.), ask the store for a tax refund form. Visitors to Iceland are offered a tax refund on certain types of items that you will take with you when you return home. You can fill out your refund form in advance so you're ready to make your claim at the airport on your last day. Tax rates are pretty high so you could get a sizable amount refunded to your credit card!
On Exit:
Get your tax refund: Budget an extra thirty minutes at the airport so you can drop off your tax receipt forms. Depending on the number of people in line ahead of you, this can be a quick stop if you fill out the forms ahead of time.
Photo by author… binge shopping at the Keflavik duty free store!
Duty Free Shopping: If you still have some local currency, swing by the airport duty free to spend any remaining cash in your pocket. Icelandic chocolates, beauty products, and jerky (lamb or fish jerky) make great souvenirs or gifts.
---
Citizen Upgrade is a community of experts covering technology, society, and personal development. Visit us at our website, on Facebook, or on Twitter. Join our mailing list to access more great content and other helpful resources.