Published on February 27, 2021
Travel - African Safari Adventure
Extreme Social Distancing With Wild Animals
Escape North American and European Winters: Go on a Luxury African Safari in Botswana Now!
Airline travel can be remarkably safe when you adhere to strict COVID-19 protocols.
Safaris provide a travel opportunity that adheres to social distancing requirements.
Options range from no-frills tent camping to high-end, fully equipped, glamping with surprising luxury amenities.
Safaris offer a year-around opportunity to unwind, unplug, and enjoy nature.
---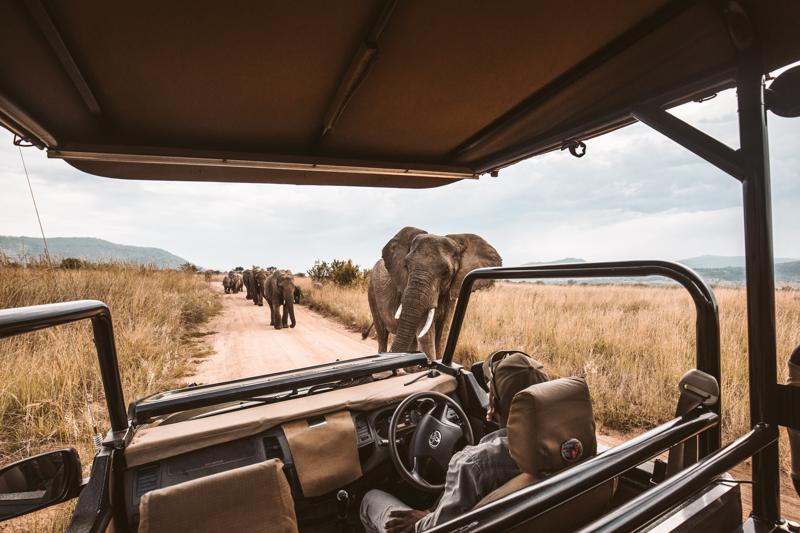 Photo by RedCharlie on Unsplash
What better time than now to explore the wild country of an African safari! Ever travel to the Southern Hemisphere? You can escape the American and European winter woes and travel south where the reversed seasons put you in the midst of a sweltering summer. Rather than traveling to a crowded city, venture off the beaten path on a safari that adheres to the social distancing requirements of the day. You can find some amazing deals ranging from top-end luxury glamping to backpacker-style tent excursions. Either way, you'll get an opportunity to see nature at its best under a beautiful African sky.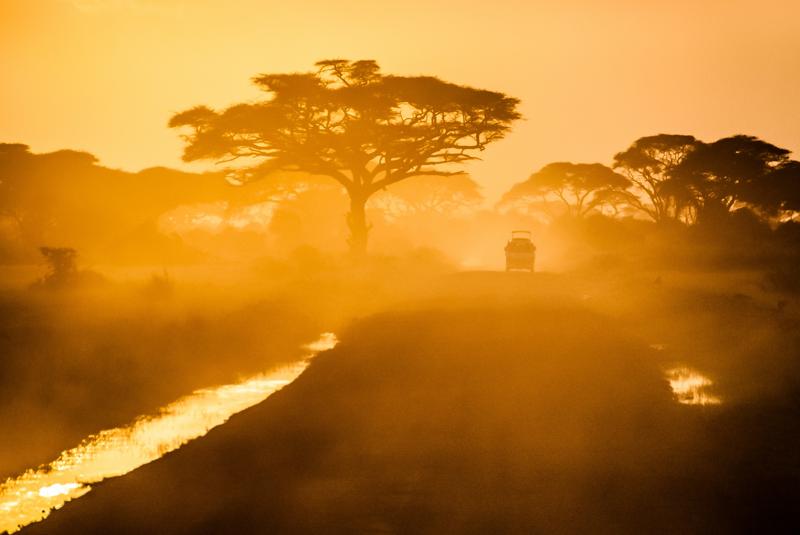 With the mix of dust and unobstructed panoramic views, African sunsets are truly remarkable, photo by Sergey Pesterev on Unsplash
The Setting:
I recently stayed at Camp Kalahari, part of the Makgadikgadi National Park Salt Pans in Northern Botswana, which was formed around the time of the origin of mankind according to a recent National Geographic study. Due to the global decline in travel during the pandemic, there are some incredible deals to be found across Botswana. My glamping experience definitely included some surprising creature comforts. I stayed in a semi-permanent canvas tent. The tent was secure from all wildlife, and your belongings are safe as the staff is extremely trustworthy. The only electricity in the tents was for electric lamps, and wifi was limited to the common lounge dining areas. This created a welcome opportunity to unplug and unwind.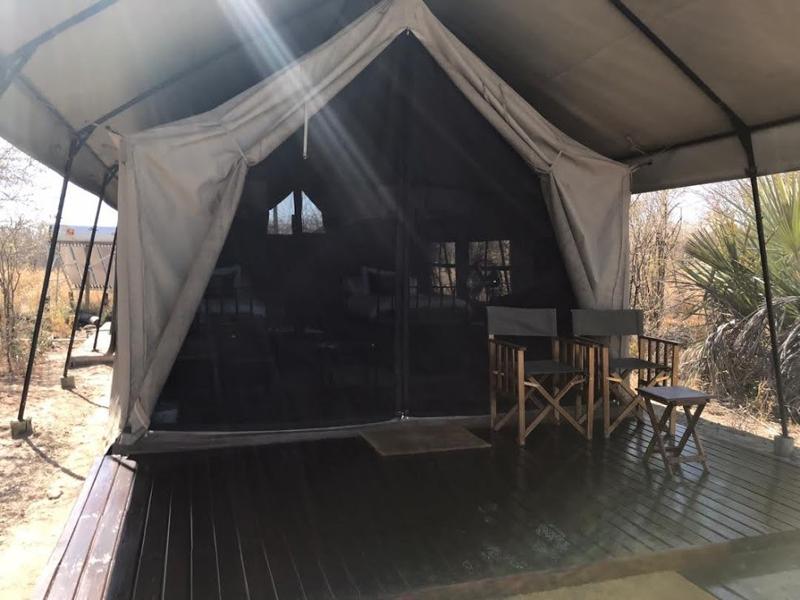 My incredible glamping tent, photo by author
Tent interior, photo by author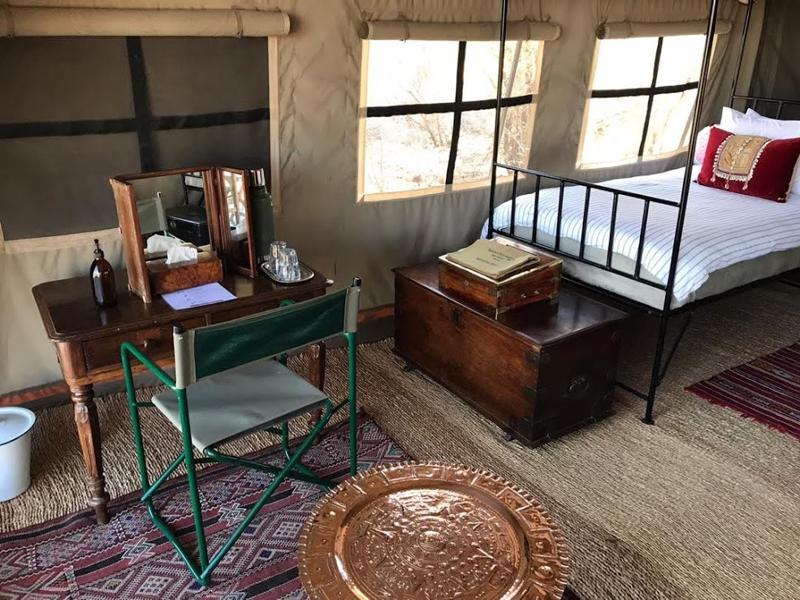 Bedside vanity, photo by author
My camp had 12 tents and a maximum capacity for 30 guests. During my stay, only eight other people were there the first night, and the second night it was just my group of three people so social distancing was a breeze. Although there was no air conditioning or electric heat (yes the desert gets extremely cold in the evening), I didn't really find them necessary as I was out on activities during the day (more on that below). In the evenings, the very attentive staff provided a portable hot water bottle, which was placed on our beds along with a delightful chocolate truffle. We were eating delicious food non-stop throughout the trip, beginning with tea and cookies at dawn, then a sumptuous breakfast, followed by a substantial lunch, afternoon high tea (including more sweet and savory treats), and finally a delicious three-course supper.
As a result of the steady stream of food and drink, we had to "visit the throne" often throughout the day. We also did our best to stay hydrated during our outings in the desert, aiming to pee "clear and copious" as advised by my old Scoutmaster. Fortunately, we had a separate powder room attached to our tent.
Luxurious personal bathroom, photo by author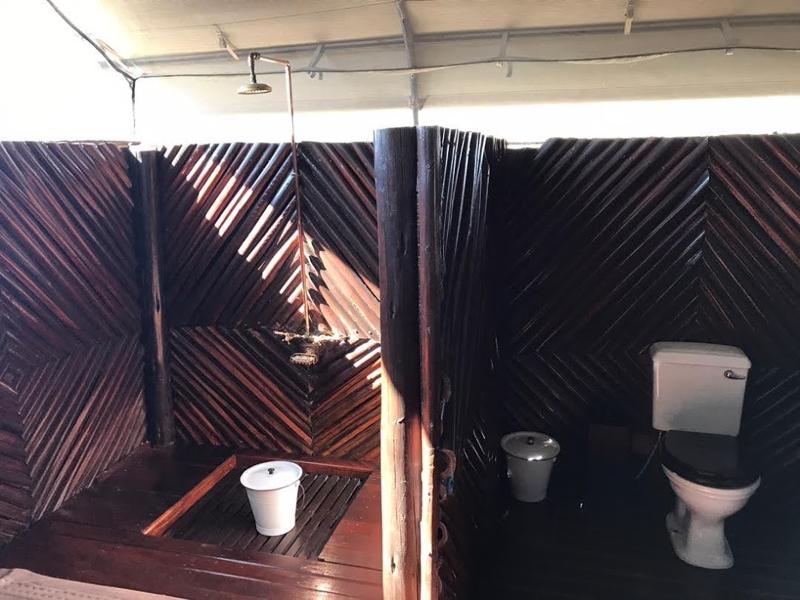 Another view of the adjoining bathroom, photo by author
Safari Activity 1: Wildlife
What do you do in the middle of the desert? You see some of the most amazing wildlife on the planet from the safety of your safari vehicle. Botswana is home to the greatest concentration of elephants anywhere on the planet with an estimated population well over 100,000.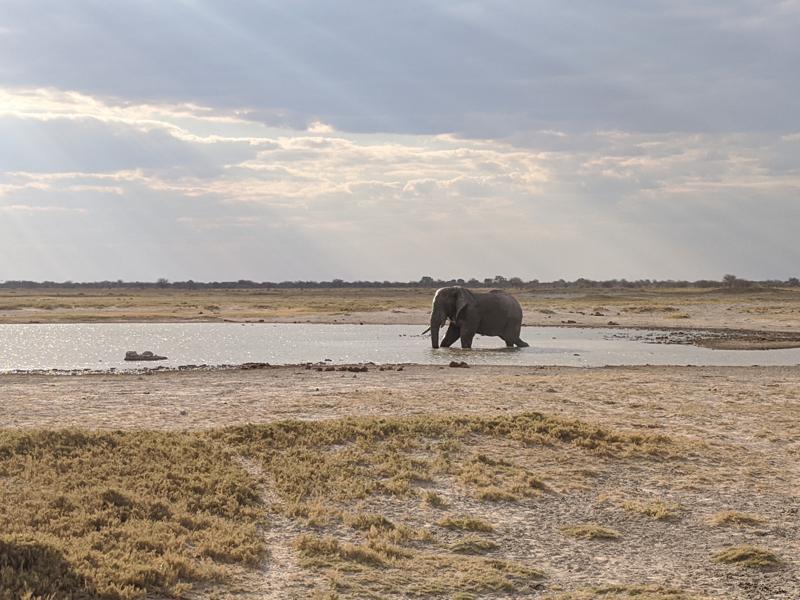 Photo by author
You will also see countless members of the antelope family including the impala, kudu, and more.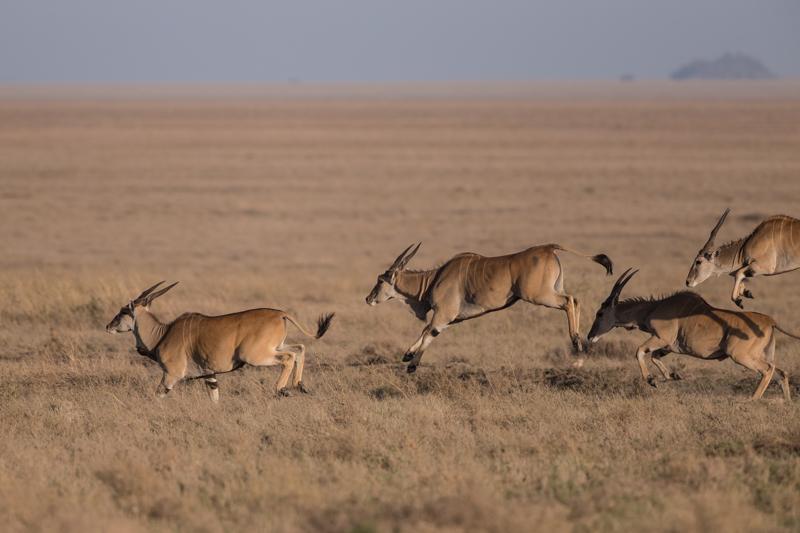 Photo by Jean Wimmerlin on Unsplash
Safari Activity 2: Quad-Biking the Salt Pans
An activity unique to the Makgadikgadi is quad biking on the salt pans ("quad-bikes" also known as ATV's). Thousands of years old, the salt pans are a place like no other. On the surface, the place appears devoid of life, the polar opposite of the neighboring wilderness with abundant flora and fauna. The region is essentially a dried up pre-historic lake.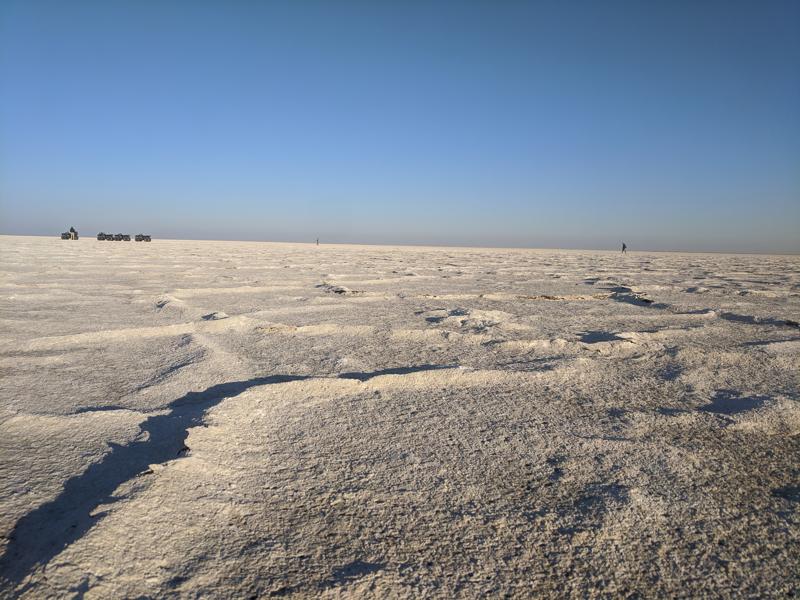 Photo by author
Our guide told us that after the rainy season, the desolate area springs to life, awakening fish, frogs, and other organisms that lay dormant through the dry season.
Photo by author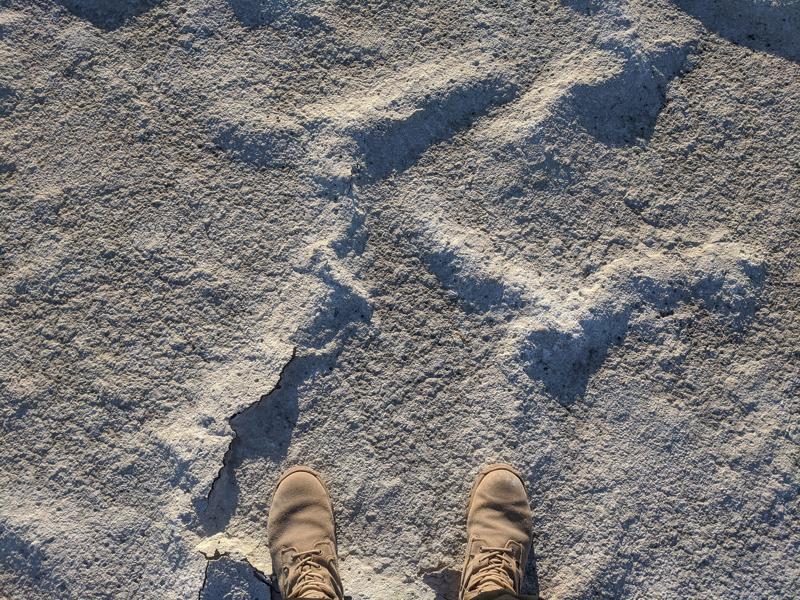 Photo by author
When to Visit?
As you can imagine, water in the desert brings life. That does not mean however, that you must go in the rainy season or even in the months that follow it. Animals are actually easier to spot in the dry season when the vegetation is less dense. When water is scarce, animals crowd around the watering holes that remain.
From January to April, over 50,000 zebras and wildebeest migrate through the areas around Camp Kalahari in Botswana's Makgadikgadi National Park.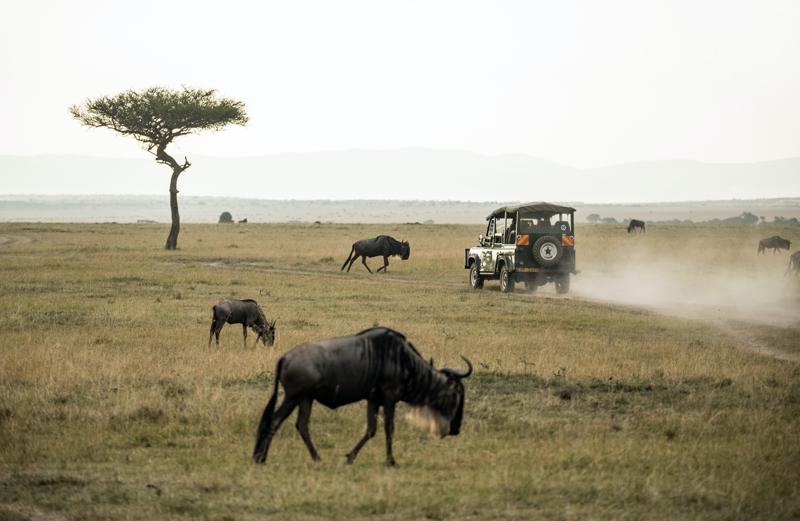 Photo by David Clode on Unsplash
Botswana has three travel seasons, which are driven more by cycles of tourist density and school holidays than actual weather changes:
Green vegetation (low season prices): mid January – March
Cooler season (low season prices): April – May; November – mid December
High tourist season season: June – October; mid December – mid January
In the past, the green vegetation and cooler off-seasons had the best pricing. At the lowest end for no-frills backpacker-style accommodation one can pay as little as $10 per person per night, while a place similar to mine above could go for $150 per person per night including all meals and activities. But now, during the pandemic, there are significant promotions to be found every month.
How to Get There?
As of February 2021, the best and safest way to fly to Botswana is with Ethiopian Airlines via Addis Ababa. All Ethiopian Airlines crew wear masks and gloves through the flight. For those of you concerned about the confined space of an aircraft, studies have demonstrated that cabin air rapidly moves from the front to the back of the aircraft, circulating fresh air from the outside every few minutes.
I travel quite a bit both for work and pleasure and recently returned to Botswana from the United States. In order to check-in at the Ethiopian Airlines desk at Dulles Airport, I had to present negative COVID-19 results. On the airplane, all the middle seats were vacant and everyone wore their masks. During my stopover in Addis Ababa, Ethiopia, my COVID-19 results were once again checked. Upon arrival in Gaborone, Botswana, I showed my negative results one more time, and also was given a COVID-19 rapid PCR test before exiting the airport. As an extra precaution, I am now self-isolating before getting yet another COVID-19 PCR test prior to continuing my work and travel. Keep in mind that these rules are constantly being updated based upon science and local health policies. There is discussion amongst wildlife safari tour operators of allowing tourists to isolate directly at the safari camps. It is best to check with your country's embassy and the Government of Botswana website for the latest protocols prior to booking any travel.
To book your excursions, I recommend Natural Selection, which organizes trips in Botswana, Namibia, South Africa, and Angola. It is difficult to book accomodations directly with the safari camps as they tend to be small independent operations, isolated from just about everything.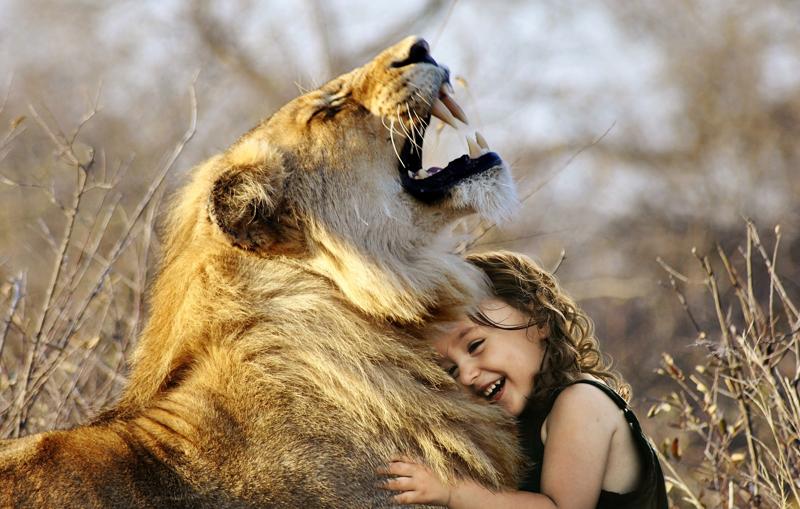 Photo by SarahRichterArt on Pixabay
The Journey is Worth the Effort
For those willing and able to travel through the pandemic, now is the time to go on an adventure like no other with a safari in Botswana. Escape the cold winter of North America and Europe and safely travel to an African safari camp where extreme social distancing with both animals and humans is the norm. And if the scientists at National Geographic are right about this area being the cradle of humankind, this may just be a journey home.
---
Citizen Upgrade is a community of experts covering technology, society, and personal development. Visit us at our website, on Facebook, or on Twitter.