Published on October 30, 2020
How To: Fit An Emergency Kit in a Pill Bottle
Be prepared for everyday emergencies
Photo by Kyle Glenn on Unsplash
We each carry a variety of items with us every day. Anything you keep in your work bag, purse, backpack, or laptop bag could be considered part of your "kit". For the average person, this usually includes a handful of utility items like a phone charger, medicine, and other sundry items. With a bit of planning and preparation, we can upgrade our kit to prepare for the everyday challenges we are likely to face: broken gear, cuts and scrapes, and so on.
Enter the pill bottle emergency kit! This combines a collection of items stored into a standard prescription medicine bottle that you can keep with you everywhere you go. With the right kit, you can be prepared for a variety of emergencies and annoyances that we might face commuting, working, shopping, and travelling.
This article will share some basic items you can store in a plastic prescription medicine bottle. These pill bottles are small, readily available (free!), waterproof, and discreet. Unlike camouflage military style pouches, most people won't look twice at these pill bottle kits if found among your belongings. The items described are readily available at your local pharmacy, grocery store, or outdoor supply store.
If a pill bottle doesn't work for you, you can also try building your kit with an Altoids mint tin. These tins are still small, strong, readily available (free to re-use if you liked the mints), and nondescript. Unlike pill bottles however, they are not waterproof.
Disclosure: This article contains Amazon affiliate links to products. Purchasing via these links supports our writing at no extra cost to you.
---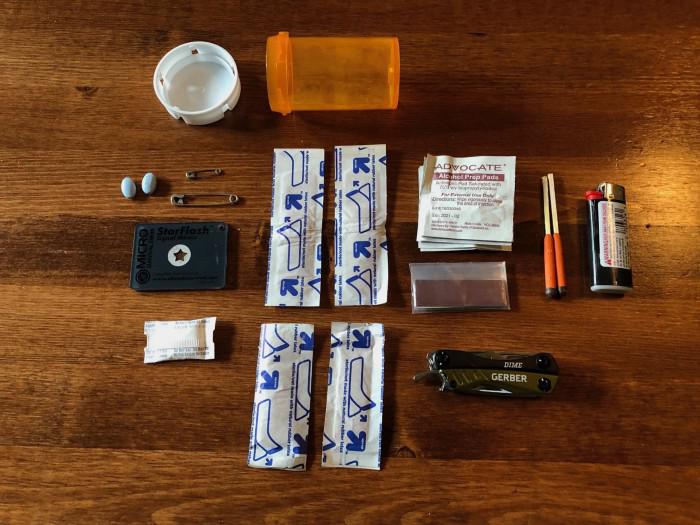 Contents of the pill bottle EDC. Photo by author.
Contents of the Pill Bottle Emergency Kit
Empty Prescription Medicine Bottle: For this kit I used a standard sized "20 dram" bottle (1.5" diameter x 2.93" height)
4 Bandages- assorted sizes
4 Alcohol Wipes
2 Stormproof Matches and Striking Pad

TSA friendly option: a book of standard safety matches

Bic Mini Lighter

NOTE: A single disposable lighter is allowed by TSA in your carry on baggage.

2 Naproxen Pain Killer Tablets

NOTE: You can substitute acetaminophen, ibuprofen, or other medications you use regularly.

Silica Gel Pack
2 Safety Pins
Gerber Dime Tool (alternative: Leatherman Squirt)

TSA friendly option 1: Kilimanjaro Multitool
TSA friendly option 2: Micro USB loaded with scans of your passport, travel documents, health insurance info, and pdf's of maps.

Optional: Wrap the exterior with duct tape. Doing this makes the kit a bit less discreet, but the duct tape can come in handy in a variety of situations. Given its appearance with duct tape, you're likely to be asked to unpack the kit when passing through airport security.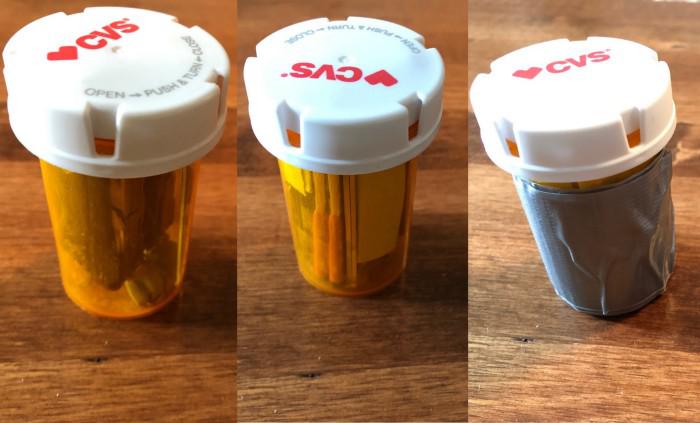 The finished product. Photo by author.
---
And there you have it! A fully assembled pill bottle emergency kit. Want to carry more items in your kit? Try using a larger prescription pill bottle. Don't want to collect all the items listed above? You can buy pre-packaged kits online focused on first aid or survival. There's no reason not to carry one every day, whether it's in a backpack, purse, or laptop bag.
If you enjoyed this post, check out our articles on the Survival Rule of Threes and Survival Smartphone Apps.
---
Citizen Upgrade is a community of experts covering technology, society, and personal development. Visit us at our website, on Facebook, or on Twitter.